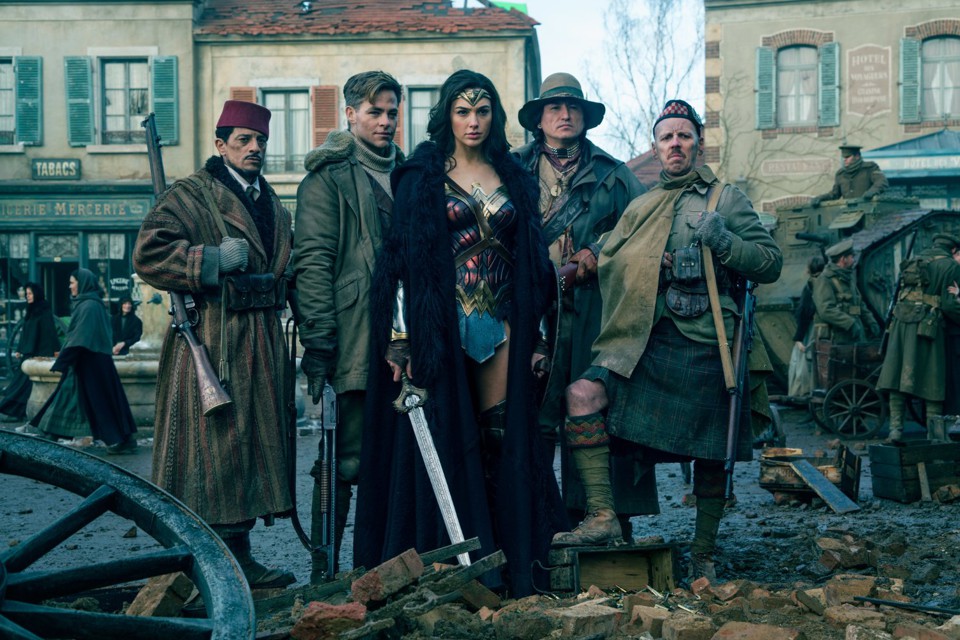 When Wonder Woman made her debut in DC's Batman V Superman, she was one of the good things about the movie (read my BvS review here). So, knowing that DC is making a standalone Wonder Woman movie, I know I have to see it. Did the movie exceeds my expectations? How's the cast, direction and script? Did I enjoy the solo adventure of Wonder Woman? Read on to find out.
Pros
Gal Gadot and Team

I want to say this right off the bat that Wonder Woman could excel because of Gal Gadot. The Israeli actress have won many hearts in BvS and in her standalone film she delivered what we were promise: a good performance.
Gal Gadot's embodiment of Wonder Woman is not over-the-top nor was it kitschy in any way. Playing the alter ego of Wonder Woman a.k.a Princess Diana of Themyscira a.k.a Diana Prince (phew!) which begins from a young naive woman on a mythical Mediterranean women-filled island, followed by a fish out of the water in World War II Europe to a fully-aware demigod in a mortal world – Gal's performance is heartwarming, transcending, goofy and just enough dramatic.
Why did I wrote the team, then? It's because even though Wonder Woman is supposed to centered around Diana Prince, the film's entourage gives a breath of fresh air to the overall film (and in a way helped Gal to stand out among the, uhmm, men). The decision to cast Connie Nelson and Robin Wright as Diana's Amazonian mother and aunt was on point, while Chris Pine's riveting performance as Captain Steve Trevor-the pilot who flee the Nazi into Themyscira- comes as a nice surprise, not just in eye-candy way I might add.
Diana and Steve's banters and chemistry reminds me of the old caper Hollywood movies, and this is a good things! because it definitely gives DC's other couples a run for their money (Henry Cavill and Amy Adams or Jared Letto and Margot Robbie?)
Meanwhile, I enjoyed the sidekicks and the baddie too. I won't spoiled much, but David Thewlis and Lucy Davis were so much fun to watch, while Danny Huston is always welcomed in my book.
Direction & Script
The first major superhero movie directed by a female turns out to be a decision worth to follow. Director Patty Jenkins made a clever movie with a script written by Allan Heinberg. I would even say that she managed to blends Marvel's touchy and fun formulas with DC's Snyder-grim extravaganza and made it into a movie of her own.
Why Marvel? The first half of the movie would remind anyone of Thor i.e. fish out of the water mixed with Captain America's World War/espionage theme. Meanwhile, the second-half sculpted into a more grimace setting that might remind one of Snyder's Superman series. The good thing is Patty's version is nothing too bitter and clunky, just enough to give you the deja vu. My favourite scene is when Diana Prince arrived in London along with the fighting scene at the battalion that was followed by snowing scene. 
For a movie that runs for over two and half hour long, Wonder Woman is a ride worthwhile. From the Greek fantasy to real world realness, director Patty Jenkins allows you to immersed in these two different worlds without sacrificing any of the script's element. Saying that, however, I am not a big fan of the flashback opening-credit nor am I a fan of the horrendous CGI (but more about it later…)
Technical Aspects

Despite the abysmal CGI and slow-motion techniques, Wonder Woman is a movie equips with great visuals and sound. Yes, these are important elements and cinematographer Matthew Jensen along with music composer Rupert Gregson-Williams did a considerably good job. My favourite cinematography scene was at the Louvre followed by the aerial view of the idyllic Themyscira Island, that itself is good enough opening-credit for DC. While, Wonder Woman's Wrath score was utilize at the right time and in the right scene. Brava!
Movie Message
In the era where superheroes questioned their mission and power, Wonder Woman comes as a movie that just want to have fun with a little more of something extra. We all know that DC and Warner Bros' Snyder-directed films didn't fare that well with the audience. Some said they were too dark and too weird, while the other loved the first two.
However, Wonder Woman reminds me of the old Superman films where the characters stepped out of the comic books and onto the big screen; it doesn't take itself too seriously. On the serious note, the film also did a good job in making me questioned mankind's true nature, while still favouring superheroes' justice-for-all ideals and giving the movie a feminist boost it needs.
Cons
CGI & Fighting Scene
For a movie with great visuals and setting, Wonder Woman's CGI is quite appalling. Even Snyder's choppy Man of Steel had a better special effects than this. I would say that some of the CGI looked cheap and wonky while the final fighting scene was all over the place to say the least. I remember there were fire and explosion and more fire? Oh, I also remember electricity. That was trippy.
Conclusion:
For being on my most-anticipated 2017's film list, Wonder Woman was a good solo adventure film. It has got romance, humour and human emotions that gives the DC Universe another chance to battle with Marvel. However, the movie can also be remembered in a different manner. It can be remembered as a fantastic Wonder Woman standalone, at last.
Total Score: 82/100.