Most of the time when a country that's not Hollywood tries to produce a superhero films, it didn't fare well. This should be a crippling fear of any filmmaker who are thinking to follow the path. Would it be compared to the gargantuan Marvel and DC? Could they avoid similarities with the Western comics or avoid making a cartoon-ish hero? It's a hard battle, to be honest.
Last year, Gundala was announced at Indonesian Comic Con. Little was known about the project, just that it's the first Indonesian superhero films based on 60's popular local comics that involved a team of Indonesian brilliant cinematic minds. Many are skeptics, me included, but the excitement grew. Nearing the release of the film, a stellar marketing promotions was held: From relaunching the old comics, stellar teaser release at one of the biggest music festivals in town to countless roadshows. Needless to say, the team knows how to handle the marketing promotions. They managed to started a buzz that went viral on social media, could they deliver what they promised?
*Spoilers ahead*
Gundala is a film about Sancaka who got struck by lightning and develop a super power. Growing up as an orphan, he abide by the mindset to not get involved in other people's business and that got him through his rough childhood as a street kid. However, with new super power comes a new set of responsibilities.
The film's setting is harsh and dark while most of the characters are passive, living in a lawless society. We see street kids fighting each other, rich society deemed manipulative and untrustworthy, while members of the government are easily bought off. Needless to say, the film's atmosphere is depressing, but Gundala did a good job in balancing it with heroic narratives, humour and patriotism ideology.
While it's a superhero film, the issues are kept close to home with corruptions, equal pay and controlled paranoia. You can sense the exhaustion in these characters – it's either you fight and hope for a change, or loose your humanity and become one of them. I find this refreshing for the genre. There are no evil scientist, psychopathic clown or centuries old wizard. The main antagonist, Pengkor (Malaysian Bront Palarae), is an orphan who grew up to be an oligarch. Both him and Sancaka shared a traumatic childhood that shaped them to be who they are today. This is an interesting character study and I find both hero and villain have solid backstories, but perhaps too much of a backstory? We will discuss in a bit.
Gundala (played by the superb Abimana Aryasatya) is a working class superhero with no hyperbolic personalities. He got no one-liner, cool gizmos or a super smart brain. He is straight-out-of-the-street hero who is trying to make sense of the world they live in (which I think is a dystopian Jakarta?). His superhero costumes are even made of materials easily found near him. The downside, however, is that Gundala has an unexplained super power. He can shoot lightning bolt out of his hand but we still don't know how he absorbs the power. It will irks many people but perhaps they are saving the answers for the second installment.
If the film's setting is moody and dark, it's still aesthetically pleasing. I enjoyed the palette and cinematography. Shot mostly in Jakarta, the film showed the "other side" of the capital city, far from its metropolitan glory. While young Sancaka was learning martial art, there's a scene in an empty train station that I thought was visually amazing. Other familiar venues like colonial buildings in the Old Town area, or the flyover that many of us passed by everyday, also makes the film memorable.
This is of course thanks to Ical Tanjung's work as the cinematographer and Joko Anwar as the director. Helmed as Indonesia's prolific director (and the nicest film's big-league – he made time in the middle of his shoot for my interview last year!), Joko's cinematic suave can be seen throughout. His penchant for the right colour tone, eclectic film locations, wide-angle shot, abrupt humour and creating a solid build-up. But, when the second-half comes it felt clumsy. Perhaps, it was the choppy editing or bulky script, but it felt like he was trying to forced everything into one cramp room.
[Read my review for Joko Anwar's Pengabdi Setan here]
There's a fans lip-service fighting scene when many of Joko's favourite actors appeared in the climax. It was "cool" to see them, but it lacks the importance that can be given to other subplots. Perhaps, introducing them in the first-half would be a better idea rather than cramming them altogether. I also noticed inconsistency with Ghazul character (played by Ario Bayu), who's supposed to be Gundala's main nemesis. His role was non-existent at first but grew bigger in the end. Where did he come from? One of my friends said he didn't enjoy Gundala because there were too many characters in the film and he may be right.
Remember about the solid backstory? It was needed in the first-half to introduce us to Gundala and Pengkor, but if the writing could focus more on balancing between the protagonist, antagonist and what comes next – the second half wouldn't feel too fast. The main challenge for Gundala in the film is to stop Pengkor in releasing fatal antidote to the public. This was before Pengkor injected "immoral serum" to packs of rice that make new pregnant lady delivered immoral babies. I speak for most viewers that I didn't get that part. Furthermore, if they want to play with the 'immoral babies danger' they should stick to it. It was a messy 20 minutes that plunged audience into state of confusion.
However, that being said, Gundala's lukewarm climax was elevated in its final scene. When Sancaka was saved by Sri Asih, the mysterious female heroine. And before the film ends, Ghazul did something that will make your jaw drop. These little "teases" build the excitement over the upcoming Bumi Langit's films.
Like I said, it's not easy to make a superhero film if you are not in Hollywood. Take Bollywood for example, there were Krrish (and its sequel) that tells the story of a father-son with superpower abilities and evil scientists. The film went to be box-office that genuinely puzzles me because after I saw it, I wanted my 3 hours back. At least with Gundala, I will re-watch it in the near future.
The second Bumi Langit film Sri Asih is going to be launch next year, while the third Si Buta Dari Gua Hantu the year after. Resurrecting old Indonesian comics and giving it a modern film spin is a creative endevour that I personally support. Some thinks it's an overly ambitious project that's riding on the hype of superhero phenomenon. Could they actually make a solid stand-alone superhero films in 5 years to come?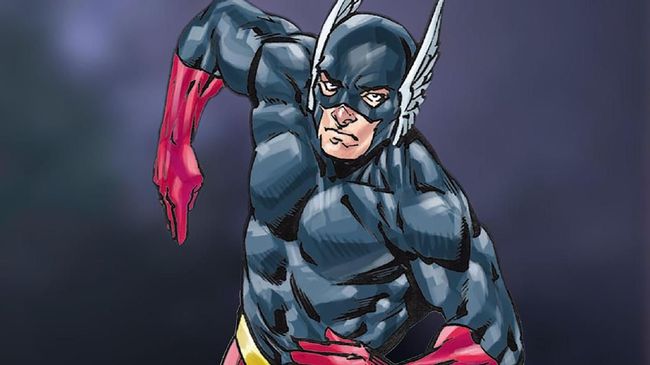 It's not fair to compare Screenplay Films, Bumi Langit Studios & Legacy Pictures with Marvel or DC Comics. Yes, the producers are "capitalizing" on these comic-turn-to-film excitements by holding off major information in the first film so the audience returns to the next (there are several plot holes in the film!). I get the annoyance, but again in the end it's a film business. These film productions are not Marvel's or DC. They don't have the financial backup or resources. They COULD develop better characters, stronger script, and everything else I have stated above. But, I personally think they did the best they could with Gundala in the scale of Asian cinema. It was hella enjoyable!
Can Gundala be the start of Indonesian superhero cinema? The short answer is: YES! Why? While watching Sri Asih in the middle post-credit scene, although less than a minute, sends shiver to my body. Here is a full-fledged Indonesian superhero film with homegrown talents that despite having few hiccups managed to entertain. If developed better, I'm sure Bumi Langit series could make many Indonesian movie-goers proud for years to come.