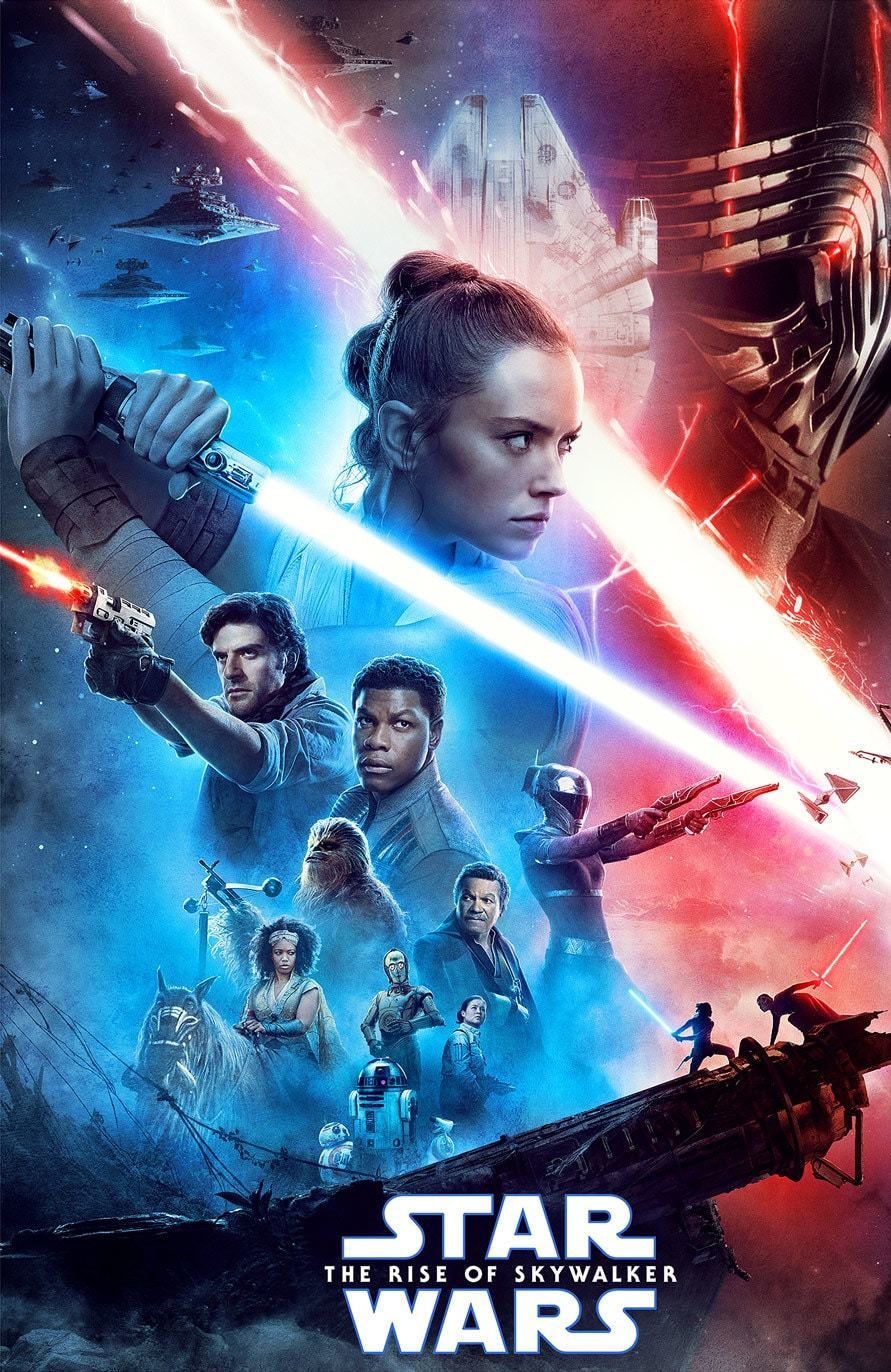 The end of an era is here as Star Wars IX officially made its debut. I went to watch the premiere with a big fan of the saga and after watching the 142 minutes film, I felt the masterpiece we all wanted might be not appear as it seem. So, let's dig in!
Spoilers, spoilers & spoilers!
Pros
Rey, Finn & Poe
The Rise of Skywalker is dedicated solely to the three new characters and their adventure. Out of all the great things from the new trilogy, for me these characters and actors are the best things to happened in Star Wars 2.0. While Rey is Jedi-training with Princess Leia, Finn and Poe are battling the enemies, but after a while Rey joins together with them only to leave abruptly after finding out about her lineage. Finn wants to tell Rey something, but sadly we never come around about that. The highlight? The three fight side by side after two movie waiting and it was magical.
Of course, Rey is the star of the series, but it's mostly thanks to the actress performance and not the writer (you will understand why after watching this film). Actress Daisy Ridley is going to be a huge star; it's a rare quality for actors to exhibit range of emotions in a fantasy/action films like Daisy did. Meanwhile, Poe emerged from the adrenaline-rush pilot to a wonderful Resistance commander who, in the end, appears as the better developed character among them. What about Finn? He received a better-written script with less star-crossed romance, as the ex-Storm Trooper he sticks out being the good guy and that's that. But, John Boyega, I like you.
Behemoth Characters
I am not the biggest Star Wars fan, but I always enjoyed its colourful characters and adventure. And Episode IX continues to provide (an even more) diverse and delightful supporting characters. From the beloved C-3PO, who has to undergo a minor "brain surgery", to Zorri Bliss, the old love interest of Poe and played by Keri Russell (you'll recognized her lovely eyes), to bunch of others. BB-8, R2 D2, Princess Leia, Maz Kanata, Jannah to Chewbacca and Lando Calrissian – each character brings smile to my face and we will re-watch the film again for them.
Meanwhile, as the old Hollywood ethos goes "the bigger, the better", the last installment brings in myriad of past beloved characters, such as Luke Skywalker, Han Solo, Palpatine, and multiple vocal cameos (Hayden Christensen, Ewan McGregor, Samuel L. Jackson, Frank Oz and even Freddie Prinze. JR and Liam Neeson). I wonder, do these cameos get paid or they did it out of love?
PS: The film eventually portrays same-sex characters, as seen towards the end. At last. What a day to be alive.
Planet, Planets
The marvelous CGI looked stunning throughout the film, while John Williams background score excels in evoking emotions when needed. The adventure in TROS doubles and better executed, from recovering artifacts in Passanna to a visit in the dark and brooding planet of Kijimi, the adventures are fun to watch. But, my personal favourite is the battle in Endor where Kylo and Rey had their final duel surrounded by angry, cold ocean waves.
Cons
Overcram
There's a lot going on in Star Wars: The Rise of Skywalker. You blink or go to the bathroom and you will missed something – why the fast pace? Oh, because they tried to crammed a five-hour plot into a two-and-half-hour and I feel suffocated at times. Director J.J. Abrams is back after his victorious gig in The Force Awakens (2015) and albeit delivering a passable film, there are subplots here that was treated poorly, like Kylo Ren's final, the Sith's return, Exegol, Lando's return, Sith's cult. The fan-service nostalgia also feels overwhelming and actually undermined the new characters importance to the trilogy.
WTF Twist
Star Wars is known for its melodrama and it should come as no surprise that the jaw-dropping twist (postponed in The Last Jedi) appeared here as we learned that Rey is Palpatine's granddaughter… Let that sink in. As it turns out, Rey is not merely a girl from nowhere who has the gifted Force. The force in Rey is a "gift" due to her royal bloodline, only bestowed to the select few. It's kind of sad to think about the little boy in the end of The Last Jedi, huh? (Was he part of Palpatine's family tree as well?). The major reveal of Palpatine's granddaughter is a cheap trick and it was a relief to know that my date, who's a major SW nerd, agrees with me.
Also, can I add more? The 'Kylo Sacrifices' in the end irks me. Why can't the villain die as a bad guy anymore, Disney?
Who's With Who?
Not a major con, but I am amused by the web of romance between the major characters. Since Force Awakens released, most fans wanted to see Finn and Rey together, but that obviously didn't happen after the epic failure of Finn and Rose's romance in Last Jedi. Not only it was a bummer, even Poe and Zori's romance left dry and hanging and making matters worst, Kylo and Rey kissed in the end. Major WTF moment for me.
Conclusions
The end of an era film, I think, will satisfy the old and new fans alike. Although its far from the perfect end to trilogy films (The Dark Knight Rises & Deathly Hallows are still an all-time favourite!), Rise of Skywalker managed to entertain with its mindless twist and recycled script.
If you had a good time reading this review, please help me and share it with your friends. Find the share buttons below 🙂
***
Want to read more? Try reading my review on Star Wars: The Force Awakens or for something more saucy, Mother, Hated Allegory.